Dental anxiety isn't fun. As a responsible dental practice, Vitality is well aware that dental phobia towards visiting the dentist can seem crippling, so here's how to deal with dental anxiety and ensure you have a positive, supportive dentist experience. Dental fear is a very real phenomenon, and you are far from alone, so don't feel bad – almost a fifth of people admit to some form of dental anxiety!
It starts with the right dentist
A key in defeating your dental anxiety is going to be finding the right dentist. Hopefully, every practising dentist out there is going to have the knowledge and skills to assist with dental issues- but this involves something a little more than just their medical talents. You want a practice – like Vitality – that takes a huge interest in putting nervous patients' fears to rest from the first phone call right through to treatment.
Part of the procedure is as simple as finding a dentist or dental hygienist with whom you can mesh. Skilled dental practitioners of all ages, types, backgrounds and genders are out there, so you are sure to find someone whose personality sits well with you, be that an old-school strict medical type or a dentist with a great sense of humour. Don't be afraid to try a different dentist if you can't gel with your first choice, either.
A large part is finding a practice dedicated to supporting those with dental anxiety. This should be apparent in everything from the way staff members react when told of your phobia, to a soothing and minimally clinical ambience to help put your frazzled nerves at rest.
A good practice is obvious from the front desk
You can use your booking experience to help you suss out if the practice is going to be a match for your needs. While a receptionist having a bad day needn't be the reason to rule out a dentist who may be great, the way your booking procedure is handled can give you a lot of clues about how you will be received and what your experience is like. Be honest and open in explaining that you are a nervous patient. The response should be reassuring, interested and supportive. The dental practice wants to know your needs, so they can make your experience as uplifting as possible.
Don't be afraid to visit
A great reception team may even suggest you come in beforehand to have an informal chat with the practice, which would enable you to get a sense for the practice workflow, layout and atmosphere. Use the time to familiarise yourself with how the practice handles nervous patients like yourself, whether they are willing to go at your pace and work to ensure you are comfortable, and to familiarise yourself with the layout so you don't feel pressured on the day.
Start small
Even if you know you need extensive dental work, just go and have a chat with your new dental practitioner and maybe consider starting with a visit to the dental hygienist first. This small step will help you adapt to the dentist and their practice, and enable you to have a positive experience without overwhelming you or putting pressure on yourself. The hygienist can also advise you on tightening up your home care and building a good dental routine, as well as get your mouth squeaky clean and ready for any larger procedures.
Make the waiting more comfortable
A lot of dental anxiety will be exacerbated by waiting around. Try to book the closest possible appointment so you don't have time to mull over your phobia and get tempted to cancel. We also suggest booking as early in the day as possible so you don't have the whole day to brood on the upcoming appointment. Try to avoid sugar and caffeine on the day so you don't get overstimulated or 'jittery' to add to your nerves.
Likewise, time your arrival at the practice to suit your needs. If you get anxious and flustered at the thought of being late, aim to arrive nice and early with plenty of time in reserve. If you hate having time to think, leave yourself a little leeway but minimise your wait time as much as is sensibly possible. And bring a good book and your headphones to help soothe you in the waiting room, or a friend to help pass the time.
Take deep breaths
Hopefully, your amazing new dental practice and the experience so far has left you free of dental anxiety as you climb into the chair. Now it's up to you to help continue that. You've found a great, supportive dentist, so you don't need to worry there. Now is the time to use self-calming measures such as deep breathing to ensure you remain as relaxed as possible despite your dental anxiety. Remember, knowing how to deal with dentist phobias are a key part of overcoming them!
Don't fall for these dental anxiety myths
Knowing how to deal with dental anxiety means knowing what the truth is and isn't, too. Here's three key facts to bear in mind while working to overcome your dental anxiety.
If it's been many years since you last visited a dentist, you may have fears of being judged for the state of your teeth. No good dental practice will do this! The dentist is more than happy that you have decided to overcome your dental anxiety and reach out for assistance with your oral care now. They will work with you wherever your oral health is currently, not judge you for the past.
Technology [and pain relief] have improved dramatically
Drastic improvements in dental treatment have been seen over the last few years, and that includes pain management. If you have had a long-seated fear of dental practices, you may well find that the modern dental healthcare centre is quite different from those early traumatic memories.
Not all dental practices are alike
Not every dental practice puts the nervous patient as their priority- but we do, and there are many like us. These practices will ensure you have a supportive experience from the point of booking right up to your aftercare. So if you've had a bad experience with one practice, please don't be afraid to try again somewhere else.
Sedation isn't always necessary
A good dental practice will always offer the nervous patient the option of sedation during treatment, but we've found that with a supportive dental team around you, many of our nervous patients find that they don't need this extra support.
Knowing how to overcome your dental anxiety is the first step towards beating it. Finding a supportive dental practice with experience handling nervous patients is the second. Let Vitality help you overcome your dental anxiety today.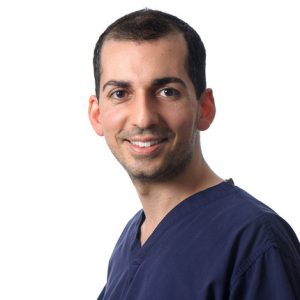 This article has been approved by
Dr. Arvin Mirzadeh BDS MJDF RCS (Eng)
Dental Surgeon and Practice Principal
GDC 83757