Are brown marks and dull teeth plaguing your smile? Today, Vitality looks a little more closely into the murky world of tooth staining- and what you can do to remove and prevent it.
What causes tooth staining in the first place?
No one likes the ugly black marks our teeth seem to just develop over time- but why do these marks occur in the first place? The answers not actually as simple as you may think.
What types of tooth staining are there?
Firstly, it's important to realise that there are several different types of tooth staining. The staining we think of most is known as extrinsic staining. These marks, whilst unpleasant or superficial are only on the enamel surface. These are the types of tooth staining that can easily be removed by your dentist.
Extrinsic stains are most often caused by our dietary and lifestyle habits. Drinking red wine, soft drinks, coffee and tea as well as smoking can all lead to grungy marks on the tooth's surface. If you're serious about beating tooth stains, it may be time to re-evaluate your lifestyle and see what you can do to prevent them forming in the first place.
Intrinsic stains are a little trickier. These are stains caused by actual discolouration of the tooth from the inside out. Your dentine has either darkened or become a little yellow. This is most typically caused by the antibiotic tetracycline being used in children under eight or pregnant women in the later trimesters, or by too much fluoride exposure as a child. Traumatic damage, especially while the tooth is growing in, or a rare condition called dentinogenesis imperfecta, can also cause this form of discolouration.
Lastly, some types of tooth staining are also related to age. Enamel thins or discolours over time, extrinsic stains build up, and physical wear-and-tear leaves a mark too.
What can I do about tooth staining?
So, now you know what causes tooth staining, let's look at what you can do about it.
Evaluate the types of food and drink you consume
Obviously, the best way to deal with tooth staining is to never get it in the first place. Tannin-heavy drinks like tea, coffee and wine are all prone to leaving marks on the tooth surface. The colourants in many sodas will also accumulate on the tooth surface, as will nicotine from a smoking habit. Chewing tobacco will stain even worse than cigarettes. Limit these substances in your diet to see an immediate relief from the accumulation of tooth stains.
Maintain good at-home hygiene
Age-related tooth staining can be warded off by a great at-home care routine for your teeth, even though you can't prevent it entirely. Be sure to floss regularly, and brush in soft circles for the recommended two minutes twice a day to help keep your enamel in top shape. Not only does this help prevent deterioration of the enamel that could lead to serious health problems, it will also help keep your enamel whiter and brighter. Whitening toothpastes may have some effect on surface staining, but they will definitely not lighten a discoloured tooth. Do be careful when using at-home whitening or stain removing treatments- many products commonly suggested to whiten teeth [such as baking soda] will scratch enamel, damage veneers and crowns, and may even discolour your teeth even worse than they were to begin with!
No matter how good your at-home routine, however, you can't do it all alone. Some types of tooth staining can only be removed professionally, with the help of a great dental hygienist, so be sure not to cause your own tooth staining by not visiting your practice regularly. A deep clean, scale and polish will help keep your teeth in perfect health and sparkling white. This simple procedure is done in-office, is minimally invasive, and should only take 30-60 minutes of your time, so be sure to regularly invest in a deep clean to see the best possible oral health results.
Are my teeth white?
If you don't immediately see clear stains on your tooth, you may be wondering if you're in the clear- but how do you know if your teeth really are white? Obviously, this answer is a little subjective. We know that a brighter smile can life decades from our faces as well as boost self-confidence, but not everyone is in agreement as to what constitutes 'white' and what doesn't. If you're considering a tooth whitening procedure to assist towards correcting intrinsic or age-related tooth staining, or simply to make your smile brighter, your dentist will measure your starting shade and monitor the change in shade throughout treatment. Shade is measured by assessing the basic colour, the intensity of colour, and the brightness. Your dentist or hygienist will be fully trained in how to accurately measure shade. Where you stop is a discussion for you and your dentist to have to ensure you meet your dental health goals.
Now you know what causes tooth staining- and, more importantly, how to avoid it- as well as the different types of tooth staining, you are empowered to make better dental decisions to help ward off those ugly brown marks and keep your smile fresh and looking great. Be sure to chat with the team at Vitality if you need any help booking an appointment with your hygienist, or if there is anything specific you'd like to discuss. Remember, it's never too late to visit the dentist!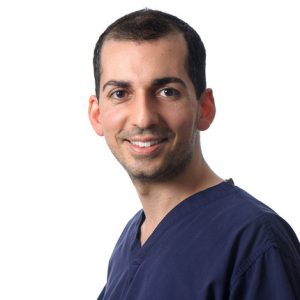 This article has been approved by
Dr. Arvin Mirzadeh BDS MJDF RCS (Eng)
Dental Surgeon and Practice Principal
GDC 83757