When you go to a dental practice in West Sussex, you will most likely encounter a dental hygienist at some point of your time with them.
But what exactly is a dental hygienist?
A dental hygienist is a vital member of a dental team and helps the practice provide a complete oral healthcare plan for the practice's patients.
Dental hygienists are licensed professionals, licensed and registered with the General Dental Council (GDC).
The Dental Hygienist's Role
The dental hygienist plays a key role in a dental practice by providing preventative care for its practice. They perform much of the oral maintenance a typical patient will need, thereby freeing the practice's dentist to take care of the more serious dental cases and treatments like extractions, implants, repairs, and surgeries.
Perhaps most importantly, a dental hygienist is an educator. They will advise adult and child patients how to best look after their own teeth and gums when the patients are at home.
Here are some clinical tasks dental hygienists in the United Kingdom typically perform for their dental practice:
Scaling (or cleaning) teeth (sometimes under local anaesthetic)
Applying topical fluoride and fissure sealants
Provide advanced periodontal therapy
Apply prophylactic and antimicrobial materials
Image the teeth with x-rays or digital impressions
Provide detailed oral hygiene advice
Carry out fissure sealants
Limited emergency care
As you can see, a dental hygienist does a lot!
When will you see a dental hygienist during a visit?
A dental hygienist will probably be one of the first people you will see once you sit down in the dentist chair whether you're visiting for a routine cleaning or for an initial consultation.
Like dentists, dental hygienists don't always work in a dental practice. They may be based in hospitals where they will be involved with helping patients who may have had major surgery or have particular medical conditions.
The Dental Hygienist Education
Dental hygienists registered by the GDC are highly trained and educated professionals.
They will have earned at least five General Certificate of Secondary Education (GCSE) subjects graded A-C (or equivalent) as well as two A levels or a recognized dental nursing qualification. These courses are offered by dental schools and usually takes two years or up to 27 months full time.
Subjects taught in a dental hygienist program include:
Anatomy and physiology
Preventive dentistry
Dental health education
Dental pathology
Management and care of patients
Many dental schools offer courses that combine dental hygiene and dental therapy.
Some non-academic or clinical skills dental hygienists also develop good people and communication skills. This is vital since dental hygienists work with a broad spectrum of people in a wide variety of different settings.
What to Look for in a Dental Hygienist
Finding the right dental hygienist is just as important as finding the right dentist in West Sussex, especially considering how much of your time will be spent with the dental hygienist over your time with the dental practice. While it's a lot less likely your dental practice will hang diplomas and certificates of their dental hygienists on the wall, you can still gauge the dental hygienists' ability from your dentist.
Great dentists tend to hire great staff—and that includes the dental hygienist. When you go to the dentist for a visit, take an extra moment to talk with your dental hygienist. A good dental hygienist will want to learn more about your oral care habits and how you take care of your teeth. They will want to help you minimize the amount of appointments you make at the dentist (aside from biannual cleanings and check-ups) by advising you on how best to prevent teeth and gum disease.
If you're ready to meet your next dental hygienist, consult with your West Sussex dentist today and take the first step to the road of better oral healthcare.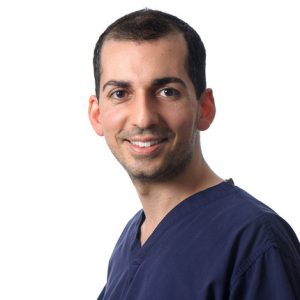 This article has been approved by
Dr. Arvin Mirzadeh BDS MJDF RCS (Eng)
Dental Surgeon and Practice Principal
GDC 83757