Most tooth problems that dentists see are easily avoidable with a good oral health routine. Caring for your teeth can be simple and there are a number of small changes that you can make to your daily routine to help look after your teeth and gums naturally, keeping them in great condition for years to come.
We're passionate about helping you maintain a beautiful smile, so we've put together our top tips for teeth care at home.
Brushing
The number one rule in oral hygiene is to brush your teeth regularly and thoroughly. Brushing twice a day for two minutes, once in the morning and once before bed, with a fluoride toothpaste will keep your teeth clean and remove most of the plaque that has formed on the surface of your teeth.
Choosing the right toothbrush is important and there are benefits of both manual and electric brushes. Below are some of the key points to consider:
Manual Toothbrushes
These brushes are widely available in almost every chemist and supermarket. Although they are relatively cheap, their value can vary from basic options to cleverly engineered brushes. When choosing a new toothbrush you should look for:
Soft to medium strength bristles (and never hard) bristles should clean effectively while being kind on enamel and gums. Extra-soft bristles may be best suited for use on a receding gum line
Good design: a small head and multi-angled bristles allow the brush head to clean plaque from tricky to reach areas and achieve maximum coverage
Non-slip handle: to allow you to use the brush properly and effectively, many manufacturers include a comfortable non-slip handle
However, even the best manual toothbrush can be ineffective if your brushing technique is not up to scratch. The recommended method for manual brushing is to hold your toothbrush at a 45 degree angle and then brush the teeth with circular movements. You should also make sure to brush behind the teeth and the flat chewing surfaces to remove all plaque. Your hygienist will demonstrate this for you.
Manual toothbrushes should be disposed of and replaced every few months, or once the bristles have started to fray and become misshapen.
Electric Toothbrushes
Electric toothbrushes are widely recommended by dentists to many patients as a more effective way to clean your teeth and avoid decay and gum disease. The rechargeable brushes move the rotating head and sweep away any plaque or food debris around the tooth. Although electric toothbrushes are more expensive than their manual counterparts, there are a wide range of options available at different price points and suited to all budgets.
Some of the most common types of electric toothbrushes are:
Rotating: a rotating brush head will spin in one direction only and is usually at the lower end of the price scale. The brush head is designed to fit around one tooth at a time and sweep away plaque from the surface
Oscillating: unlike a rotating-only brush, an oscillating head can spin forwards and then backwards to help scrub away plaque
Sonic & Ultrasonic: at the top end of the scale are brushes which claim to remove plaque and breakdown bacteria by using sonic or ultrasonic vibration frequencies. These are usually no more effective than oscillating brushes in our experience.
Investing in an electric toothbrush can make a huge difference to the efficacy of your home oral hygiene routine and allow you to properly take care of your teeth when you are at home. Unlike manual brushes, you do not need to dispose of the whole unit when the brush becomes worn, instead replaceable brush heads can be purchased and should be changed regularly. We advise that you discuss with your hygienist which electric brush might be best for you.
Flossing
Even the best toothbrushes can struggle to reach the plaque that builds up in between your teeth and these tricky areas can become a hotspot for caries if missed when cleaning. Plaque build-up and tartar are leading cause of gum disease and, in turn, tooth loss. To avoid the need for dental treatments such as fillings, root canals and extractions, we recommend flossing daily as an extra preventative measure. As an alternative to string floss, interdental toothbrushes can be used for wider gaps between teeth, to clean and dislodge food debris. Again your hygienist will be an invaluable source of information and advice on this.
Diet
The food and drink that we consume each day can have a huge effect on the health of our teeth, and too many sugary or acidic treats can cause acid attacks and lead to caries. Unless you carry a toothbrush to clean straight after eating, it is advisable to monitor your sugar intake and reduce it as much as possible to take care of your teeth and gums naturally and maintain a healthy smile.
Coffee, red wine and tea are leading culprits of staining, which may stop your pearly whites being quite so… white. What's more, while eating fruit may be a much healthier option than snacking on sweets, acidic foods have the same effect as sugary foods on eating away at, and irreparably damaging, tooth enamel.
Without the strength of enamel, our teeth become sensitive and weak, which can lead to discomfort and also chipped or broken teeth when we eat something hard.
Regular check-ups
Prevention is better than cure and regular visits to your dentist will allow them to spot any early signs of poor tooth health before it develops into a more serious problem. As well as cleaning your teeth and treating any issues, your dentist can also advise on how to maintain better oral hygiene at home and whether or not they believe that your current routine is working effectively. We recommend scheduling a check-up every 6 months to make sure your teeth and gums are in optimum health.
With the right care routine, you can look after your teeth without a dentist and may be able to avoid ever having toothache again. It really is as simple as brushing regularly with a good quality, suitable toothbrush, flossing in between teeth, watching what you eat and drink and a check-up with your dentist twice a year. If you would like further advice on how else you can look after your teeth at home, contact our team at Vitality or have a chat with your dentist or hygienist on your next visit.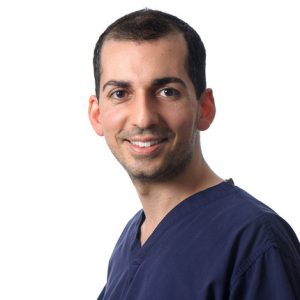 This article has been approved by
Dr. Arvin Mirzadeh BDS MJDF RCS (Eng)
Dental Surgeon and Practice Principal
GDC 83757