Here at Vitality, we know your health and wellbeing lie in more than just physical good health- it's about feeling great too. Our Facial Aesthetics services play a huge role in that as we know we would all like to look our best and whether this is to help your self-confidence or for mild medical reason – feeling comfortable in your skin is key. No longer are you subject to the whims of time- you can take a proactive stance in managing your look, your way, always. We're excited to launch this new phases of the practice- and here's all the information you need to stay on top of our latest offerings.
What are Facial Aesthetics and how can they help me? 
Facial Aesthetics is the latest customer-centric service Vitality is happy to offer. We have always taken great delight in bringing life back to your smile… now it's time to lend a little help to your other aesthetic woes too.
Most of us want to maintain a graceful look as we age yet plastic surgery seems a drastic step for most of us, and results can be hit-or-miss. Our new Facial Aesthetics service harnesses the subtle power of non-invasive procedures like Botox, fillers and lip fillers to help you look younger and feel great when you look in the mirror.
Non-surgical treatments such as Botox and fillers still need to be carried out in sterile, safe clinic settings. They also require a great deal of attention to detail to look and feel natural. This attention to modern clinical practice is often lacking in fly-by-night practitioners. This requires a trained medical practitioner with suitable anatomical knowledge to get the very best results possible. Each step of the process must pay homage to your unique facial characteristics if it is to look natural. A fully-comprehensive knowledge of facial anatomy and musculature is required. This helps ensure that results are natural and undetectable as 'cosmetic work' to the observer's eye. Your practitioner should also be set up to guide the non-trained patient to correctly identify their needs, as often what we think is the cause of our aesthetic woes has a source elsewhere. Without this anatomical knowledge and attention to personalisation and detail, less than stellar results can be had. That's why we sought out a specialist with the in-depth knowledge you need to run this arm of the practice.
How can fillers help me look younger?
As we age, we lose fat from our faces and as part of the natural ageing process, we will slowly lose the plumper glow of youth. This primarily affects the tear troughs and middle of the face, making us look drawn and tired. Add to this the natural loss of collagen over time, which leads to saggier, crepy skin and unwanted creases. Collagen production in the skin decreases at a rate of 1% a year after we turn 25! We may love our smile lines, but no one wants them to stay long after the smile itself is gone.
Here is where dermal fillers can help. Their intent is not to change your face, simply to restore what has been lost to time. Not only do fillers help plump the area and restore vital skin components that have been lost, but they also prove a cost-effective way to avoid surgery and still look great.
Most dermal fillers and lip fillers are made from hyaluronic acid, a natural component of our skin that decreases with age. It holds water, leaving your skin looking 'plump' and hydrated. In this way, it helps restore volume too, leaving us with youthful, refreshed curves. Fillers can also subtly add volume to areas like the lips, jaw, chin or nose if you find your profile needs a little balancing. Done correctly, the fillers are soft, malleable and undetectable from your natural look. Here at Vitality, we use Profhilo, an innovative market-leader that delivers twice the concentration of hyaluronic acid, boosting elasticity and tightness to the max. Aside from fillers and lip fillers, it also has fabulous uses such as reducing the 'gumminess' of smiles and more.
How does
Facial Aesthetics at Vitality Dental
work?
Our on-site specialist, Caoimhe, will conduct an in-depth consultation with you. You will discuss your concerns, as well as the treatment options open to you. Armed with all the knowledge you need to make smart decisions, we will then create a tailored action plan for you. All procedures can be carried out on-site, within our clinic environment to ensure only the best results for you. The highest standards of medical care are adhered to, every step of the way.
Dr Caoimhe Doherty (BDS, MFDS, RCS (Eng) MSc) has a special interest in facial aesthetic issues. She has made it her passion to deliver up-to-date, world-renowned treatments to her patients. Her previous work has seen her on Harley Street (London), Surrey and Ireland, and she has been focusing on her niche speciality for the last 6 years. We are proud to be able to add her and her unique talents to the Vitality team.
Remember, there's no need to not look the age you feel! With the Facial Aesthetics team and Vitality, you can take charge of the ageing process yourself. You will look younger and feel great too. Choose us as your aesthetics partner, and you'll have the peace of mind of the same great Vitality quality you know and love.
Ready to find out more?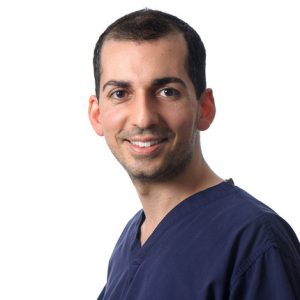 This article has been approved by
Dr. Arvin Mirzadeh BDS MJDF RCS (Eng)
Dental Surgeon and Practice Principal
GDC 83757