Vitality Dental have exciting news- we're taking new dental patients! Conveniently situated in West Sussex, we offer the perfect balance of care, affordability and quality. If you're looking to find a dentist that has your needs and care top of their priority list, then why not learn a little more about the Vitality difference with us today?
What areas does Vitality cover?
If googling 'dentist near me taking patients' hasn't lead you to the right fit yet, then know that we are situated in the Pulborough area of West Sussex. This leaves us perfectly placed to service the Pulborough, Petworth, Horsham, Storrington and Billingshurst areas, as well as the surrounding districts. We also have patients from Arundel, Worthing and Chichester. If you need to find a dentist in these areas, the new opening on our patient books could be the perfect match for you. No matter where you live, you'll find the same care and understanding of the unique needs of your mouth that has become the Vitality hallmark.
What do you offer new dental patients?
We are proud of our state-of-the-art dental surgery facilities, offering innovative dental treatments such as crowns, veneers, implants and even the Invisalign invisible braces system. With an expert team providing years of knowledge and experience, we focus on high levels of care and make your health our priority. Whether you need to find a new dentist through a move, lack of satisfactory care at a previous facility or because you're considering one of our treatments, we will make sure you are informed and invested in your own oral care every step of the way.
I don't like the dentist but I need dental work. Help!
Much as we love our profession, we do understand that it can be scary for some patients to make an appointment at a dentist. Whether it's general anxiety disorders or a bad prior experience that has made you wary of the dentist, we seek to help everyone feel as comfortable as possible.  Your health and well-being are our top priority, after all. Nestled into the charming scenery of rural West Sussex, your experience with us is key. Grab a complimentary cup of coffee [or a chilled water] as you wait, and know that you're safe in the hands of a dental practice which specialised in nervous patients and those seeking sedation dentistry.
Isn't dental care terribly expensive?
There is a common perception that dental care is only for the well-heeled and rich when nothing could be further from the truth. Vitality take affordability very seriously, knowing that good access to dental care is a critical pillar of maintaining your overall health. Whether it's your 1-year-old child or an elderly patient, everyone deserves access to great dentistry. Alongside our superior care, we are proud to be able to offer a wide range of membership options, allowing you to save on costs at every step. From basic maintenance of your oral hygiene through to cosmetic dentistry such as implants, veneers and teeth whitening, we will help you make your smile dreams a reality. With VitalityPlan offering you a range of flexible payment schemes, don't let your oral health suffer because of fear of the bill. We're are taking on new patients from all walks of life. Whether it's good dental insurance plans or a little help with the bill you need, we have an option which will suit you.
I just need a simple clean, though?
If the only reason you are looking for a dentist near you which is taking new patients is for routine care and maintenance, we're glad to meet you! Vitality, like any good dental practice, isn't just about the intricacies of correcting problems or making your teeth look good after the fact- it's about keeping them healthy in the first place! Whether you need to find a dentist skilled in paediatric patients to make your little one feel right at home, or simply want to keep your mouth looking great with a deep clean, our dental hygienist team are on hand to help. Find out more about the whole dental hygiene procedure here.
Vitality believes in affordability, superior care and convenience. Book an appointment through our web portal today, or call us on 01798 872004 to set up your first appointment. For many of our cosmetic dentistry procedures the initial meet-up will be complimentary, so no matter why you need to find a dentist, don't be shy to get in touch today. We are here to guide your oral care into the future.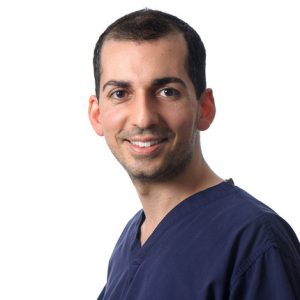 This article has been approved by
Dr. Arvin Mirzadeh BDS MJDF RCS (Eng)
Dental Surgeon and Practice Principal
GDC 83757