For millions of people in the UK, the very thought of visiting the dentist is more than enough to prevent them from making an appointment. According to National Smile Month's research, going to the dentist is a common form of anxiety for countless UK adults:
Almost 50% of UK adults are nervous dental patients and display some level of anxiety
12% of the above suffer from extreme dental anxiety
Women are more likely to suffer from extreme dental anxiety than men
And it makes sense. Because oral healthcare requires dentists to examine a bodily cavity (your mouth), it automatically makes it more invasive than almost any other sort of care. However, your teeth and gums need to be adequately cared for by a qualified dental team. Not only do you need healthy teeth, there are several serious health concerns that first show symptoms in the mouth.
If you are a nervous dental patient, here are five ways you can calm yourself and relax during a dental visit.
1) Work with a reputable dentist.
Many dentists are clinically qualified. However, if you're a nervous dental patient, it really pays to ask around and see who your friends, families, and colleagues trust. One of the hallmarks of a trusted dentist is a dentist who has a gentle touch and a relaxed demeanour.
It's like a stamp of approval. By going to a dentist recommended by a person you personally know and trust, you'll be a lot more relaxed when you make your visit. You won't have to deal and manage the uncertainty of an unknown dentist.
2) Tell the dentist your concerns.
Communication is key. Empathetic dentists will listen and work with you to relieve your anxiety. You'll also be able to establish expectations and go at the pace of treatment that suits you.
When you discuss your concerns, this is also a great opportunity to strike a rapport with your dentist and his or her team. You'll be able to gauge their level of empathy. Do they brush off your concerns or do they truly listen and try to understand your perspective? Has the dentist previously worked with nervous dental patients? If yes, what are some strategies that have helped relieve the stress and anxiety?
For example, some dentists give their patients anaesthetic mouthwash that numbs the gums. This can greatly minimize discomfort. Others can even sedate nervous dental patients.
3) Create hand signals.
Once you open your mouth and the dentist or dental hygienist starts working, it's going to get a bit harder to communicate, especially if you feel that guttural noises are undignified.
By agreeing upon hand gestures, you can continue to communicate with your dentist while he or she is performing dental duties. You can create simple signals to indicate:
"I need a break."
"I am feeling discomfort."
"I am feeling pain."
A good dentist will actually proactively check in with you by periodically asking if you are okay or if you need a break, especially if he or she knows that you are a nervous dental patient.
4) Distract yourself.
Some dental practices have been know to have televisions in treatment rooms, most will play local or radio from a quitter radio station for enjoyment and distraction. These are meant to relieve anxiety and even boredom. However, if your dentist doesn't offer a television, that doesn't mean they are a poor dentist.
You can bring your own form of distraction. It can be a bit awkward to read or use a tablet, but you can simply close your eyes while listening to music. If you tend to fidget when you are uncomfortable, bring something to keep your hands busy, like a fidget spinner, stress ball, or a puzzle you can work on without using your eyes.
5) Learn to take care of your teeth.
If you're a nervous dental patient, you probably already try to avoid going to the dentist altogether. The first step is to get used to caring for your teeth, being used to thinking about them and even the sensation of brushing, flossing or inspecting them is a great start to getting used to dental treatment.
At your dental visit, speak with your dentist and learn how you can better improve your oral healthcare from home. Any dentist will agree that preventative care is the best care. A good dentist will work with you to create a strategy for you to ensure your teeth and gums stay healthy.
With that said, it's still vital for a qualified dentist to examine your teeth for routine check-ups. But if you take care of your teeth, you can rest assured that you'll only be going in for quick and easy appointments.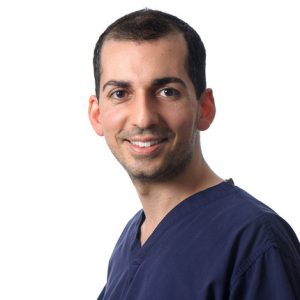 This article has been approved by
Dr. Arvin Mirzadeh BDS MJDF RCS (Eng)
Dental Surgeon and Practice Principal
GDC 83757