Dental care has a reputation of being expensive. In fact, many people tell us it is the fear of unforeseen high private dental costs that stops them from utilising the benefits of high-class dental care in Pulborough. It is only when they come to their first consultation and experience the Vitality difference do they realize the value in private dental care, and the lower fee's than they expected!
Avoiding proper dental care can lead to serious oral health issues that create even greater costs down the line. Rather than letting the problem come to you, it's better to be proactive and get ahead of potential dental issues.
How to Finance Dental Care
By sourcing proper dental care financial coverage from the start, not only will you save your teeth and gums from potentially serious issues, you'll also save significant money in the long term. Visiting for regular dental appointments is the best way to protect your teeth, and if you plan well in advance, you'll find it's actually quite affordable.
Before deciding on the best way to finance dental treatment in the UK, let's help you make a well-rounded decision by taking a look at all the options available to you.
Pay-As-You-Go dental Treatment
Pay-as-you-go is the simplest form of paying for dental treatment. Under this payment method, you simply pay for dental procedures as the need for them arises. Paying cash, credit, or debit, you are charged for the full cost of your dental procedure, just as if you were paying for any other service.
By avoiding paying insurance or a membership plan, you're gambling on your oral health. Pay-as-you-go may be the best route if you rarely require dental treatment, but in any case, you're accepting significant risk. At the very least, it's advisable to undergo regular cleanings and check-ups, and even the most basic of insurance and membership plans will typically cover the costs of these check-ups for a similar price.
For a complete list of Vitality Dental's pay-as-you go fees at our Pulborough dental practice, please visit this list of our standard fees for dental treatment.
Membership Plans for Private Dentistry
For many patients, membership schemes are the best option for financing dental treatment, providing both affordability and sufficient coverage. This method of payment is optimal for patients who come to the table with a clean bill of dental health and are looking to maintain their great smiles at a fair price.
These plans help you spread out the cost of regular dental treatment over the course of an entire year, while typically costing less than dental insurance. For a small monthly fee, paid via direct debit, membership plans usually cover dental health reviews and annual cleanings, and can additionally offer discounted dental services.
At Vitality Dental, a private dental surgery in Pulborough, we proudly offer the VitalityPlan. For only £13 per month, our adult VitalityPlan will cover you for the following services:
One fully comprehensive review of your dental health every year, which includes a clinical examination, an assessment of your gum health, tests for oral cancer, and x-rays
A custom-tailored dental hygiene check-up schedule, as determined by one of our dental professionals, with all necessary hygiene visits covered by the cost of your membership
Worldwide dental insurance to cover emergency medical procedures and pain relief
Email newsletter with exclusive offers for members, oral health tips, and more
15% discount on all treatment fees, excluding sedation treatments and implants
The VitalityPlan is also available for teenagers and children's dentistry, providing dental health reviews, hygiene visits, and education sessions for an even more affordable monthly rate.
In addition to taking preventative measures to protect your smile, the secondary benefit to a membership plan at a dental surgery is the discount on additional treatment fees. Given that the cost of membership is roughly equivalent to the cost of the oral health assessments and regular hygiene check-ups you will receive, any additional discount on treatment fees essentially comes at no extra cost to you. This means that you'll not only be taking proactive steps to keep a healthy mouth, but you'll also be protecting yourself in the event that more serious dental needs arise.
Dental Insurance
Whether you elect to pay for private dental insurance yourself, or you receive insurance through your employer, there are many important factors to consider before relying on insurance for financing your dental coverage.
Dental insurance covers both routine and unplanned treatments. Insurance can help you save on significant costs past your regular check-ups, but it often comes with higher upfront fees, be it monthly or annually. Dental insurance is ideal for those who foresee requiring high-cost, non-optional dental procedures, but for those who only require regular hygienic visits or for those looking for cosmetic dental work, dental insurance is usually not the best option.
The upfront costs of dental insurance can be quite significant, and while you may end up eventually needing more serious dental treatment, it can quite often be less expensive to buy in to a membership plan and pay for discounted treatments as they arise. Even simply paying as you go can sometimes be a better option for those who rarely require coverage.
Cosmetic dental work is typically not covered by dental insurance; therefore those looking for whitening, veneers, and other cosmetic treatments are also better served to pay for a membership plan such as Vitality Dental's VitalityPlan.
When choosing a dental insurance plan, you should consider the waiting period between making a payment and receiving your insurance refund. While some insurance plans are fairly quick to refund your payments, others can take months to fulfill your claims. There may also be yearly or 24-month limits on the amount of claims you can make, so be sure to fully educate yourself on your insurance plan before signing up to make sure that it's the right plan for you.
Loans and Credit for Dental Treatment
If you elect not to pay for an annual membership, or you forego insurance, what happens if a high cost procedure arises? All hope is not lost! Many dental practices, including Vitality Dental, offer interest-free or interest-bearing credit dependent on the amount and length of the loan, dependent on your credit history and other factors.
No matter which way you go, it's best to plan for a rainy day and secure financing for your dental treatment before any serious needs arise!
Contact Vitality Dental Pulborough
For more information on financing dental treatment, or to learn more about the VitalityPlan membership, contact Vitality Dental today.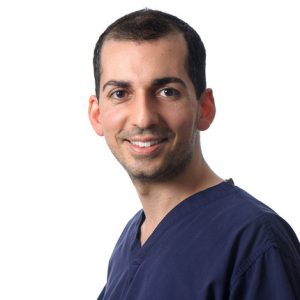 This article has been approved by
Dr. Arvin Mirzadeh BDS MJDF RCS (Eng)
Dental Surgeon and Practice Principal
GDC 83757